All Downloads Bundle £6.66 Off
Buy Five Albums + EP + Single - Save £6.66.
This bundle also includes: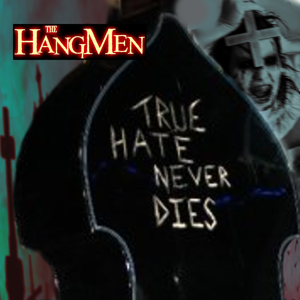 True Hate Never Dies
Single Download - Mastered WAV + Mp3 versions
All across the floors and walls, dripping from the ceiling
Through the darkness loathing crawls - how well I know this feeling
Mercy just a ghost that comes to haunt the hopeless crying
Not much left to seperate the living from the dying.
Damn your eyes.
Grind another axe to chop more lies out of more heads
We're all books of blood, when we are opened we are red
Curse this ground I walk upon, slanderise my name
Hate those who are different hate those who are all the same.
All Rise.
It conquers all
It is old and wise.
Empires fall, true hate never dies.
Carnage on the ground, questions in the air that never find a voice
No blood can be spared.
Never turn the other cheek, forget or forgive
This earth was never for the meek
None shall live.
Despise.
Mass Movement Magazine Review: - "It's stuff to make The Living End shit the bed....harder, darker and faster, if you please. The Hangmen don't do compromises and their latest single is no exception, coming highly recommended to creeps, freaks and weirdos the world over. Enter with caution and then throw that caution to the wind."
Die Psycho Couch Review (English/Deutsch) "...somewhere in the wilderness of the mountains of madness. ...a good example of the way the band blends Psychobilly and other influences, like some punk attitude or even a dash of BLACK SABBATH feeling ...unholy overall impression"
Another inimitable slice of the trio's psychobilly/garage punk infestation and a devious little creature. A rousing contagion loaded stomp, a bullish, violence encroaching slice of punk infested rockabilly - another devilish gem from The Hangmen
This bundle also includes: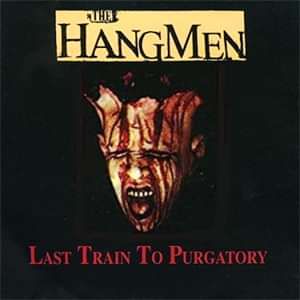 Last Train To Purgatory - Full Album Download
We've decided to reissue our second album Last Train To Purgatory for the first time, exclusively as a download.
It dates back to the mid-90s and hasn't been available for decades, mint copies have recently been advertised for sale at over £100.
What's more some tracks on the original release were paired and linked, they have been separated here - the correct titles will appear on your displays!
Plus - Acid Bath appears whole for the first time. The last chorus was originally dissected to appear on the flipside of the vinyl release that never was!
This will become available through the usual major platforms in September. Meanwhile the same album is available to download here in WAV format for less than the price of a 7" single. It is also available in the bundled special offer of 5 albums, an EP and a Single for £21. CLICK HERE FOR BUNDLE DEAL!
This bundle also includes: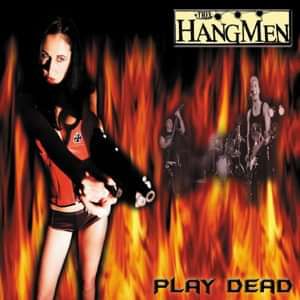 Play Dead - Full Album Download
If you have a refined ear and appreciation for intricate music, put this album down immediately and proceed to the Karaoke-Nicey-Nicey-Pop-Stars section. Or the Technical-Trickery-and-Studious-Attention-to-Detail-Band department. If however you like the cacophony of a demented graveyard gang that sweats, pisses and bleeds real primeval rock and a-roll - you are on your way to the promised land.
The Hangmen, as you may have been lucky or equally unlucky to experience, are past masters at this game. Over a decade of careering into halls and bars across the globe and raving themselves into fits on stage has earned them acclaim and bewilderment alike. They've crafted their own output to their own ends, customised each tune and arrangement to their own hi-octane thrill. Sure they probably got 'something to say' too, but they're too far gone now to remember what it is. It's a band that exists to play, to blow gaskets, to strangle and batter their instruments until the bitter end, and on that score a live set as contained herein is the cutting edge of The Hangmens guillotine. They just don't make 'em like this anymore, if indeed they ever did.
Here they are at their blood curdling best, a shuddering hysterical mess of energy and noise - as catchy as any plague and as berserk as it gets. A volatile set of crazed tunes culled from all five of their studio albums but delivered live and raw as nature intended. The old, new, borrowed and black & blue fired into the world we know with no concern for their safety or survival. Just as it's been all along in nameless sweatpits encountered along endless roads on countless occasions.
Sling this into your noise machine and crank the volume unbearably high. Add some buckets of sweat, spit and beer. Launch yourself in all directions ricocheting blindly off who or whatever your surroundings may be, then you will step into The Hangmens darkness and see the light.
Cover model: Danielle Deville Dani Photographs by: Mad Bob Sherman Production and editing: Oblivion Music
This bundle also includes: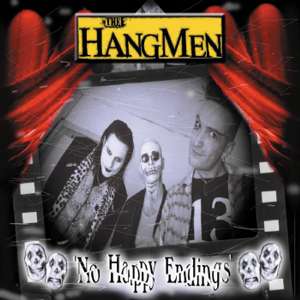 No Happy Endings - Full Album Download
This album first appeared on CD and Vinyl LP. The vinyl release was in a gatefold sleeve with a bonus 12" picture disc featuring an alternate version of Bad Blood.
This bundle also includes: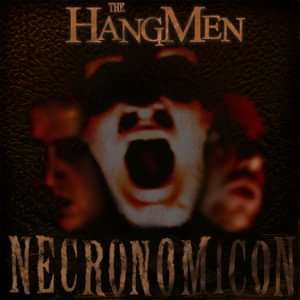 Necronomicon EP - Downloads
Our last EP was on 10" vinyl, download the tracks here!
Have you seen her eyes? *For Gods sake what happened to her eyes? * She's down in a cellar screaming 'You will die, Like the others before you by the number. Why have you disturbed our sleep - awakened us from our ancient slumber? We'll get you one by one. You'll never take the Necronomicon'.
We just played that tape, and now the woods outside attack and rape. We'll never leave here alive. 'Like the others before you by the number. Why have you disturbed our sleep - awakened us from our ancient slumber? We'll get you one by one. You'll never take the Necronomicon'.
And so it went. total bodily dismemberment is the only real goodbye. 'Like the others before you by the number. Why have you disturbed our sleep - awakened us from our ancient slumber? We'll get you one by one. You will die, Like the others before you by the number. Why have you disturbed our sleep - awakened us from our ancient slumber? We'll get you one by one. You'll never take the Necronomicon. You'll never take the Necronomicon. You'll never take the Necronomicon'.
This bundle also includes: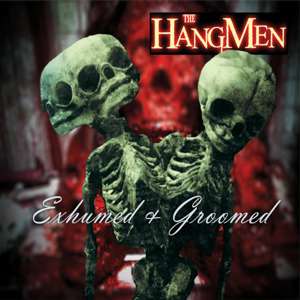 Exhumed & Groomed - Full Album Download
Rarities Collection - pre-album demo versions, one-offs and previously vinyl only releases.
"To the uninitiated this collection of once forgotten rarities and unreleased versions absent from any studio or live albums to date is a fine introduction to The Hangmens' unmistakable raw dark energy.
Calling it a rarities collection is weighted, until now they've notoriously refused to reissue, repackage or repress previous output, and so it also stands to compliment existing album collections.
Dredged and salvaged from the bands own vaults of raw demos and vinyl only release versions these ceaseless, snarling cadavers have here been mastered at Western Star Studios, exhumed and groomed to menace new minds and unsettle old ones. Enjoy - for want of a better word!"
"So raw it attracts bacteria".
This bundle also includes: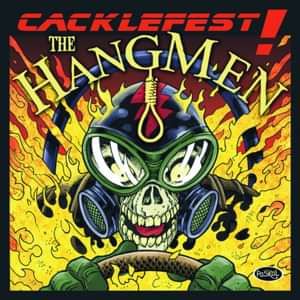 Cacklefest! - Full Album Download.
Full Length 14 Track Studio Album Download.
The bands fastest and best selling album was a much awaited return to studio album recording which rubber stamped their existing credibility. As usual, all originals played raw and straight down the line - no gimmicks detract from this powerful collection of well crafted works.
Went straight into No.4 on the worldwide Psychobilly album charts on release.
Label Press Release:
The long awaited new studio album from Psychobilly renegades The Hangmen. Cacklefest delivers 14 all original tracks certain to delight their cult fanbase accumulated over 15 years, six previous albums and relentless live forays across the UK, Europe and North America, as well as the rising new generation of Punk, Rockabilly and Psychobilly hybrid devotees. Sounds like a riot, the tunes are both accomplished and diverse and the songwriting superbly deranged.
A dark, wild and punked up Rock 'n' Roll concoction of spare monster parts, pieces of crashed dragsters and Voodoo artefacts. Definitely one for the 'play loud' crowd.
Reviews:
The Hangmen, the most independent of Psychobilly bands have come up with a no compromise killer of an album. The song writing is clever and hard hitting as it writhes about festering in the gutter, but look again it's not spluttering it's death cackle, it's revelling in its position as the lowest common denominator in musical genres. There are no taboos with The Hangmen, it's all here, murder, death and mental health issues covered in unsavoury vocal style, delivered on the back of a jack hammer double bass driven beat and guitar to make your ears bleed. 'Rotten To The Bone' proclaims the cover, you can't argue with that, decomposition never sounded so good.
The Hangmen are back with their long awaited new album Cacklefest. This is an onslaught of mutilated Punk, Rock 'n' Roll and Psychobilly, true to the Hangmen style. Cacklefest will definitely impress the avid fan. From the first track you are launched into a sick and twisted world supported by heavy riffs and Loz's gravely tones. "Bad Medicine" gives you chance for a breather before the relentless pace continues. "Wake up, smell the nitro" pays a contagious little homage to Drag Racing at Santa Pod, definitely one for all you Wrench reading petrol heads out there. This album will gnaw its way into your brain, proving the Hangmen are well and truly back with a vengeance!
I've been waiting for Cacklefest for days. Each morning has found me looking out the window and watching the postman beat a path to my door with a fistful of bills, but sans CD. The result being that the anticipation has been rising as fast as the pile of unpaid bills. Anticipation is a double edged sword though. On one hand it can get the juices flowing and set the scene for what's next. While on the other it can raise expectation so high that failure to deliver on what's promised becomes increasingly likely. Make no mistake. It can be a headfuck. I've been guilty of letting it rise and rise in the past. Just to find that a good album can sound pretty pedestrian when measured against the unrealistic expectations.
So now that Cacklefest has finally arrived, and with this thought bouncing around inside my head, it was with a bit of trepidation that I slipped the disc on.
I needn't have worried though. As the last track played out and I pressed the play button again I found myself completely satisfied with it.
Opening with "Godkilla" The Hangmen throw down the gauntlet and set the pace with a track that's a primal howl of loathing for everything. A gut wrenching punk hymn. "Rainy Day in Paradise" keeps the needle bouncing in the red with an unflinching overview on how trying to fit in can ultimately lead to mental anguish. "Firewalker" is the first real rock and roll track on the album and will please many of the old school fans, but it's with "Bad Medicine" where they take their foot off the pedal a bit that they shine. It's a killer track. Evocative lyrics and if anyone wants to put out a single then look no further. "Take it to the Grave" takes a step back and revisits the classic Hangmen sound with Loz rattling out couplets like there is no tomorrow. Another belter. The next song "Nightmare in a damaged brain" is the first out and out psychobilly track on the album. One that will have some of the recently converted 'billy's and 'betties pissing their panties. It's not popabilly kids. It's the real deal. "Goodbye Coffin Joe" marks the halfway spot and still there is no sign of this album flagging. All killa and no filla as da kids would say. Maybe it's the length of time since the last album that has allowed them to keep pushing the material, moulding it, perfecting it. Whatever it is, it's worked for them. "Graveyard Songs" Sounds like they have resurrected Bon Scott to sit down with Steve Earle and write a song with Loz looking over their shoulder to add his tuppence worth in. When he says "I'm a bad muther fucker and I don't mind dying" you get the impression that he means it. "Got nobody, lost your head" gets all punky on us, and reminds me of a dirtier and more street sounding "someone is going to get their head kicked in tonight" On first listen to "Hells' Bells" I wasn't really sure what I made of it. It's a dark funeral march for most of it and then it's all hell for leather country twang. The second time out of the gates it really grabs you, but it's the first track on the album that doesn't jump up on first listen. As is usual it will probably be the one that will get revisited the most. Back to basics with "demonsemen" and nowt to do with the song itself, but funnily enough a spell check keeps wanting to change it to Demon semen. Gives the lines "You got demons hanging off you, and demons locked inside" a whole new meaning. Enough of that though. This is another highlight from the album, and another contendor as a single track. As is "Wake up and smell the nitro". I've always considered The Hangmen to be an album band, but damn if this one hasn't got enough tracks to keep everyone in 7"s and splits till their next full length. The penultimate track "Zero Worship" is prime social commentary. Who says that it has to be all graveyards and blood sucking zombies? Oh, and it rocks like a motherfucker to, even if it does owe a huge debt to Mr Kilminster.
"Sick fuck comic book" finishes on a relentless note and as tongue twisters go I don't think there will be many takers to sing along at gigs. You have to hear it to believe it.
As an opening line to a song 'Firstly I would like to thank all the two faced **s who got the * out of my life' damn well takes some following, but The Hangmen in 'Got Nobody and Lost Your Head' do so relentlessly. That epitomous moment is worth the price of this album on its own, yet ALL of the tracks on this album are remarkable and quotable. Splendidly put together and drenched in an enraged psychotic angst that most bands half their age could never aspire to no matter how many tattoos, piercings and anti-social issues they affect. This is a powerful reminder that danger and challenge still lurk in Rock & Roll. So lets just confirm this is not background music. It demands and gets your attention and leaves you wanting more. You will probably not hear anything else like it. Guitar, drums and double bass - a 3 piece line up making a hell of a full sound throughout, with only the help of a sax outro on one track. Rocketing (mostly) tunes with no two sounding alike, it's easy to label the music brand as 'psychobilly' but when confronted with something like this it's also easy to picture a puzzled look amongst followers of that genre. A look like that on some unlucky kid whose cereal box doesnt contain a free plastic monster. There are real but no plastic monsters here. There are no cliches, soundalikes, or following of the rank and file. A rockabilly band with its punk genes running riot is one way of viewing it, but in all honesty its more than that. There is an unholy substance to every song and tune. Listening to this in the horror punk camp would be like screening The Texas Chainsaw Massacre after Carry On Screaming. Each number will have you grabbing the lyric booklet, each time you get to the end you will leave it in the player and hit play again. It isnt pleasant but it is exhilarating.