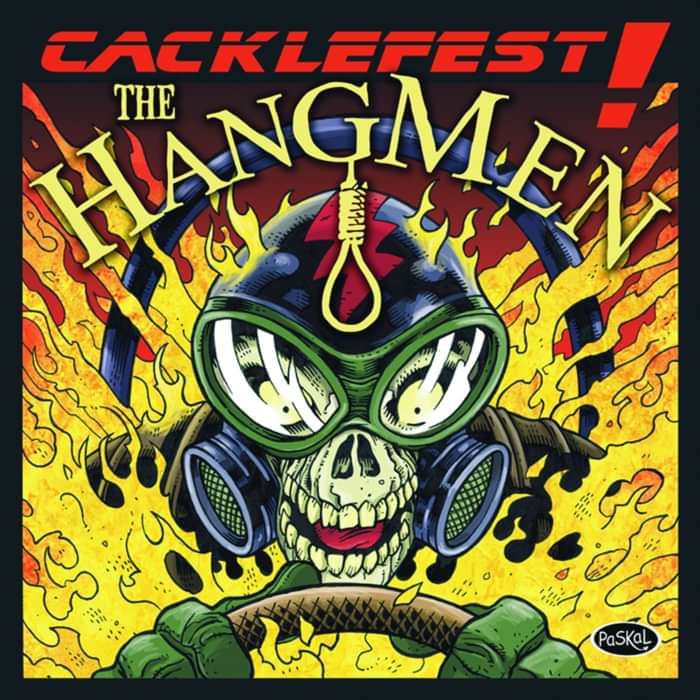 Cacklefest! - Full Album Download.
Full Length 14 Track Studio Album Download.
Nighmares In A Damaged Brain
Got Nobody, Lost Your Head
The bands fastest and best selling album was a much awaited return to studio album recording which rubber stamped their existing credibility. As usual, all originals played raw and straight down the line - no gimmicks detract from this powerful collection of well crafted works.
Went straight into No.4 on the worldwide Psychobilly album charts on release.
Label Press Release:
The long awaited new studio album from Psychobilly renegades The Hangmen. Cacklefest delivers 14 all original tracks certain to delight their cult fanbase accumulated over 15 years, six previous albums and relentless live forays across the UK, Europe and North America, as well as the rising new generation of Punk, Rockabilly and Psychobilly hybrid devotees. Sounds like a riot, the tunes are both accomplished and diverse and the songwriting superbly deranged.
A dark, wild and punked up Rock 'n' Roll concoction of spare monster parts, pieces of crashed dragsters and Voodoo artefacts. Definitely one for the 'play loud' crowd.
Reviews:
The Hangmen, the most independent of Psychobilly bands have come up with a no compromise killer of an album. The song writing is clever and hard hitting as it writhes about festering in the gutter, but look again it's not spluttering it's death cackle, it's revelling in its position as the lowest common denominator in musical genres. There are no taboos with The Hangmen, it's all here, murder, death and mental health issues covered in unsavoury vocal style, delivered on the back of a jack hammer double bass driven beat and guitar to make your ears bleed. 'Rotten To The Bone' proclaims the cover, you can't argue with that, decomposition never sounded so good.
The Hangmen are back with their long awaited new album Cacklefest. This is an onslaught of mutilated Punk, Rock 'n' Roll and Psychobilly, true to the Hangmen style. Cacklefest will definitely impress the avid fan. From the first track you are launched into a sick and twisted world supported by heavy riffs and Loz's gravely tones. "Bad Medicine" gives you chance for a breather before the relentless pace continues. "Wake up, smell the nitro" pays a contagious little homage to Drag Racing at Santa Pod, definitely one for all you Wrench reading petrol heads out there. This album will gnaw its way into your brain, proving the Hangmen are well and truly back with a vengeance!
I've been waiting for Cacklefest for days. Each morning has found me looking out the window and watching the postman beat a path to my door with a fistful of bills, but sans CD. The result being that the anticipation has been rising as fast as the pile of unpaid bills. Anticipation is a double edged sword though. On one hand it can get the juices flowing and set the scene for what's next. While on the other it can raise expectation so high that failure to deliver on what's promised becomes increasingly likely. Make no mistake. It can be a headfuck. I've been guilty of letting it rise and rise in the past. Just to find that a good album can sound pretty pedestrian when measured against the unrealistic expectations.
So now that Cacklefest has finally arrived, and with this thought bouncing around inside my head, it was with a bit of trepidation that I slipped the disc on.
I needn't have worried though. As the last track played out and I pressed the play button again I found myself completely satisfied with it.
Opening with "Godkilla" The Hangmen throw down the gauntlet and set the pace with a track that's a primal howl of loathing for everything. A gut wrenching punk hymn. "Rainy Day in Paradise" keeps the needle bouncing in the red with an unflinching overview on how trying to fit in can ultimately lead to mental anguish. "Firewalker" is the first real rock and roll track on the album and will please many of the old school fans, but it's with "Bad Medicine" where they take their foot off the pedal a bit that they shine. It's a killer track. Evocative lyrics and if anyone wants to put out a single then look no further. "Take it to the Grave" takes a step back and revisits the classic Hangmen sound with Loz rattling out couplets like there is no tomorrow. Another belter. The next song "Nightmare in a damaged brain" is the first out and out psychobilly track on the album. One that will have some of the recently converted 'billy's and 'betties pissing their panties. It's not popabilly kids. It's the real deal. "Goodbye Coffin Joe" marks the halfway spot and still there is no sign of this album flagging. All killa and no filla as da kids would say. Maybe it's the length of time since the last album that has allowed them to keep pushing the material, moulding it, perfecting it. Whatever it is, it's worked for them. "Graveyard Songs" Sounds like they have resurrected Bon Scott to sit down with Steve Earle and write a song with Loz looking over their shoulder to add his tuppence worth in. When he says "I'm a bad muther fucker and I don't mind dying" you get the impression that he means it. "Got nobody, lost your head" gets all punky on us, and reminds me of a dirtier and more street sounding "someone is going to get their head kicked in tonight" On first listen to "Hells' Bells" I wasn't really sure what I made of it. It's a dark funeral march for most of it and then it's all hell for leather country twang. The second time out of the gates it really grabs you, but it's the first track on the album that doesn't jump up on first listen. As is usual it will probably be the one that will get revisited the most. Back to basics with "demonsemen" and nowt to do with the song itself, but funnily enough a spell check keeps wanting to change it to Demon semen. Gives the lines "You got demons hanging off you, and demons locked inside" a whole new meaning. Enough of that though. This is another highlight from the album, and another contendor as a single track. As is "Wake up and smell the nitro". I've always considered The Hangmen to be an album band, but damn if this one hasn't got enough tracks to keep everyone in 7"s and splits till their next full length. The penultimate track "Zero Worship" is prime social commentary. Who says that it has to be all graveyards and blood sucking zombies? Oh, and it rocks like a motherfucker to, even if it does owe a huge debt to Mr Kilminster.
"Sick fuck comic book" finishes on a relentless note and as tongue twisters go I don't think there will be many takers to sing along at gigs. You have to hear it to believe it.
As an opening line to a song 'Firstly I would like to thank all the two faced **s who got the * out of my life' damn well takes some following, but The Hangmen in 'Got Nobody and Lost Your Head' do so relentlessly. That epitomous moment is worth the price of this album on its own, yet ALL of the tracks on this album are remarkable and quotable. Splendidly put together and drenched in an enraged psychotic angst that most bands half their age could never aspire to no matter how many tattoos, piercings and anti-social issues they affect. This is a powerful reminder that danger and challenge still lurk in Rock & Roll. So lets just confirm this is not background music. It demands and gets your attention and leaves you wanting more. You will probably not hear anything else like it. Guitar, drums and double bass - a 3 piece line up making a hell of a full sound throughout, with only the help of a sax outro on one track. Rocketing (mostly) tunes with no two sounding alike, it's easy to label the music brand as 'psychobilly' but when confronted with something like this it's also easy to picture a puzzled look amongst followers of that genre. A look like that on some unlucky kid whose cereal box doesnt contain a free plastic monster. There are real but no plastic monsters here. There are no cliches, soundalikes, or following of the rank and file. A rockabilly band with its punk genes running riot is one way of viewing it, but in all honesty its more than that. There is an unholy substance to every song and tune. Listening to this in the horror punk camp would be like screening The Texas Chainsaw Massacre after Carry On Screaming. Each number will have you grabbing the lyric booklet, each time you get to the end you will leave it in the player and hit play again. It isnt pleasant but it is exhilarating.