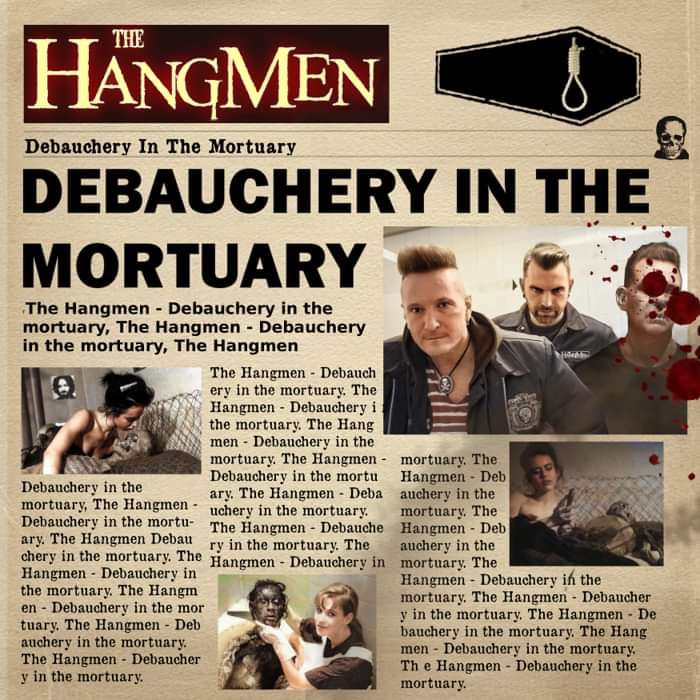 Debauchery In The Mortuary - Full Album Download
New 2022 All Originals Studio Album! WAV Audio Files.
Recorded in Ed Gein's shed at deafening, sanity cracking levels during hours of darkness using amps, instruments and microphones stolen from the dead.
Acknowledgements:
The Hangmen would like to sincerely thank ourselves, we really couldn't do this without us.
Dedicated to Spoony.
"Ok, first track is called 'Hell's Vagina'. Jesus what a crazed song. It tells of strip club massacres, live autopsies and worse to a pounding psychotic beat from start to finish. The Hangmen haven't been rewriting themselves or getting trapped into catering to a demographic and they certainly haven't mellowed with age. As the album progresses, normally innocent talents of musicianship and songwriting are not only abused and mutilated to serve the band's dark riotous signature, they are a cut (slash?) above the regular."
"As half-expected this sounds like they walked into a (very dark) room, plugged in and raised all Hell. Their hectic raw live feel flows throughout, the band working well together and generally sidestepping cliches. Make no mistake this is the deranged, intense stuff they are renowned for with the same trashy aesthetic but with some progression to show for their years in the recording wilderness".
"For a three piece 'niche' band the tracks are quite diverse, blurring the lines between rockabilly & punk whilst settling into neither, a success not a failing but fair to say probably a marketing nightmare. When they evoke 1950's Rock & Roll it's not bobby sox and ponytails that grab their attention it's the girl wearing a 'Collar Bomb'. Through the dark gritty blues stomp of 'Hexing' there is a feeling that you the listener won't sleep well tonight, but you're tapping your feet all the same. 'House Of Bone','Thermonuclear Whore'...they can still pull off 150% Proof Psychobilly with a twist like they were born doing it, then drag up some creepy retro rock or even proto-punk channeled through 'Evil Genius'. An eerie song called 'Sweet Suicide Tears' is even more disturbing for how 'poppy' the tune actually is. 'Born To Die' rocks and rolls like a train, 'Walk With A Devil' drags you off the ride into an unsettling dimension that makes everything before it actually seem like a better place to be, so you hit the album repeat button! They all gel scarily well as a whole without ever compromising the bands very basic sound. The whole experience is manic, moody, unpredictable, obscene and even makes you secretly grin whilst hoping nobody notices. Melodic, tense, footstomping, hipshaking, gear-grinding, shape-shifting, dark, lawless rock n' roll - The Hangmen once again cut a trail where nobody else would have gone and few will try to follow."
"It is what it is, unapologetic...and even by Psychobilly standards savage and brutal. Set this to play and thirteen tracks later you'll wonder what the Hell's just happened for the last forty minutes. Play it again and you'll notice things you hadn't noticed the first time and wonder how that was possible, like one of those unsettling movies you have to watch over and over...and over."
"...Punkabilly/Rockabilly/Psychobilly or just plain simple Trash Punk band, yes its dark lyrically and yes it delves deep into the bowels of musical darkness, but what it also does is uplift and excite around every corner. Thirteen songs and thirteen moments that all gel together, yet they also all stand alone as songs that have there own lives and tweaks in style, kicking off with 'Hell's Vagina' you are immediately struck by the title then struck in the ears by a three minute stonker of a melodic filled opening of the doors down into hell itself,. This song gives the listener a window into just how this album ticks, melody is tinged with raw blood curdling vocals that still find the time to show some remorse to the listener, take 'Collarbomb' it kinda shows some love in a deathly and of way, then there's the track of the album 'Sweet Suicide Tears' with its straight up Rockabilly rhythm and a hook that grabs you like a lamb to the slaughter, they both show how this album does have a soft side, even if its a only in the musical sense. What you get the sense of throughout the ensuing tracks on this stand out album, is the need to push the rules here and there, there's no need to stick to Psychobilly or jump straight down the throat of the Punkabilly lion. What's even more important about The Hangmen and this album, is its need to be nothing more than a band doing things their way, creating a sound and songs that can never be anything else but unmistakably unique, 'True Hate Never Dies' drip of this, a guitar sound that sends chills down the spine, a bass that drops in everywhere like a cluster bomb, drum beats that have all the gale and power of a panther stomping through the songs, then the vocal tears heads off where needed and soothes the ear when wanted. Death never has to be the end, The Hangmen will always be kicking on the lid of the coffin from the inside, this album will most definitely shake your head from your shoulders, then stick it back on and say "get dancing!"
All compositions and lyrics are originals, registered with PPL & PRS/MCPS and are protected by copyright. Details on request.